IDENTIFY, DATE A GERMAN HELMET
Cette page va vous permettre de savoir reconnaitre les principaux casques allemands des 1ère et 2ème guerres mondiales, sachant que beaucoup d'autres variantes existent.
les premiers casques allemands modernes, en acier, sont mis en service fin janvier 1916. L'ensemble se compose principalement de deux parties : la coque de casque en métal et la coiffe (dit aussi liner ou intérieur).
A l'époque, le rôle du casque était surtout de protéger le soldat de tout ce qui pouvait tomber ou retomber sur sa tête.



helmet model 1916 :

On this first model, we notice that the strapping band of the liner is in leather. The pads are filled with horsehair. This helmet is also called 'bolt helmet' because of the two large rivets at the top and on each side of the helmet. They were used for good ventilation and also to fix a protective plate.
Regarding this helmet model but with a steel liner strapping, it is still the 1916 model and not the 1917 model, it does not exist. Liner with steel strapping appeared in the summer of 1917. Leather was becoming scarce and required much more handling during manufacturing than steel.
helmet model 1918 :

It is the same as in 1916. The obvious difference is the position of the chinstrap attachment. If on the M16 it is fixed on the shell, on the M18 it attaches directly to the liner.
helmet model 1935 :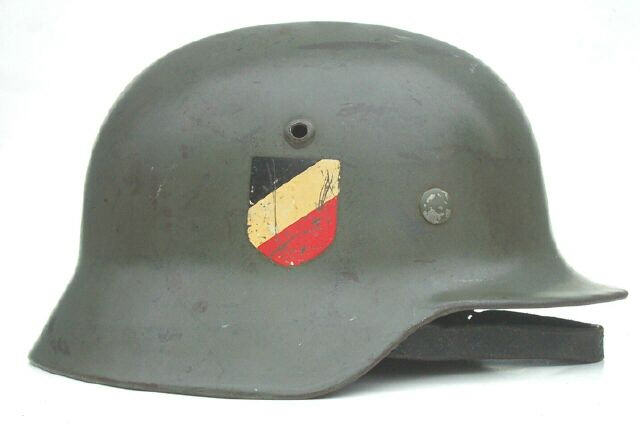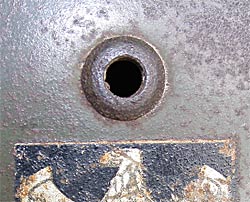 Improved and reduced form of the M16, equipped with a liner very comfortable to wear with an aluminum strapping model 1931. The edges are turned towards the inside of the helmet. The ventilation rivets (located just above the decals) are added to the shell. This is often more visible from the inside of the helmet because sometimes the exterior paint covers the rivet / shell joint.
helmet model 1940 :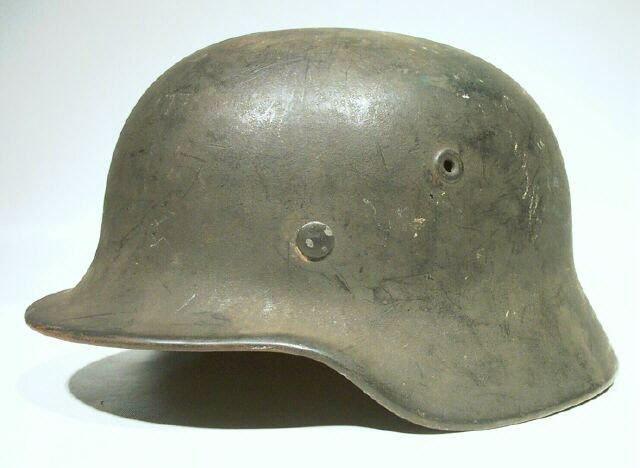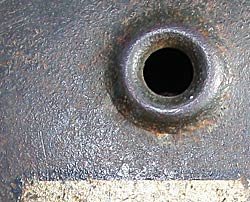 Identical in shape to the M35, can be fitted with a liner with aluminum or steel strapping. The difference is in the ventilation rivets. If they are added on an M35, They are now molded in the mass of the helmet on an M40, they are formed during the stamping of the shell. The shape may vary depending on the helmet manufacturer.
helmet model 1942 :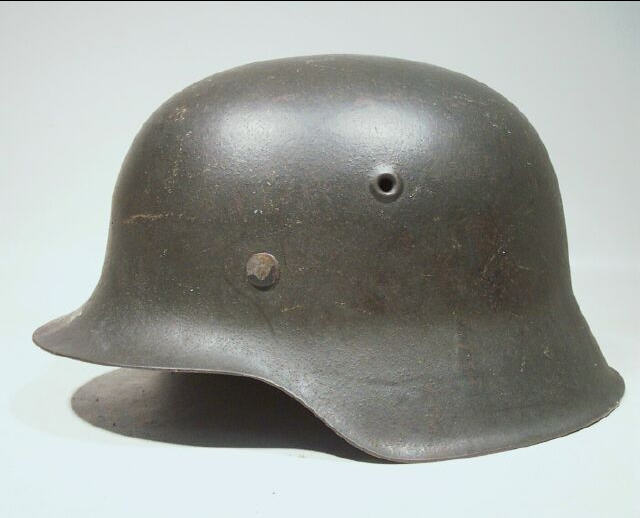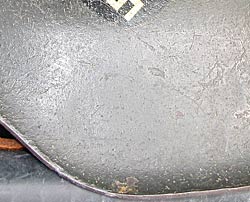 The M42 helmet can be recognized immediately with its edges facing outwards. Equipped with a liner with steel strapping. The ventilation rivets are always in the mass of the helmet.